Four Paws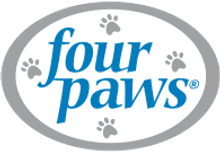 JD Redhouse & Company is proud to carry Four Paws in Willits, California. Since 1970, Four Paws has been committed to manufacturing the highest quality pet products available on the market. Four Paws is a proud member of the following Pet Industry Trade Associations: APPA, WWPSA, PIJAC, PIDA. We are equally committed to providing the finest customer service in the industry. Every product is tested for usability for both owner and pet.
Dog & Cat Grooming and Care
Bath Time Tools, Brushes Combs & Tools, Colognes Sprays & WIpes, Nail Care, Remedies & Care, Shampoos & Conditioners
Dog and Cat Waste Management & Training
Diapers Liners & Garments, House Breaking Aids & Accessories, Pooper Scoopers, Stain & Oder Removers, Training Repellents, Training Systems, Waste Bags & Dispeners, Wee Wee® Pads
Come visit our Mercantile in Willits, CA. We offer a large variety of clothing and footwear, gifts, and goodies for the entire family! We also specialize in quality food, treats, and supplies for your pets and livestock!